SME NEWS ANNOUNCES THE WINNERS OF THE UK TRANSPORT AWARD 2023!
We are incredibly happy that we have won the UK Award for the Most Innovative Transport Snow Removal Machine Manufacturer in Europe!
At some point in our lives, most of us have experienced the chaos and havoc that accompanies snowfall. With it comes city-wide delays, and a deployment of an excessive amount of snow dumping trucks in order to clear the roads and get everyone back to their usual routines. It's time-consuming, and often incredibly expensive, and the emissions produced can have detrimental effects on the environment. SNOCOM strives to eliminate all of these issues, and has crafted a solution to city-wide snow matters that have never been tackled in such an efficient way.
READ whole article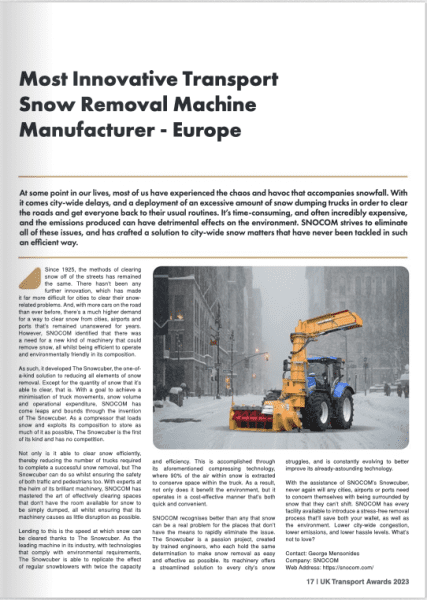 Some more pictures: